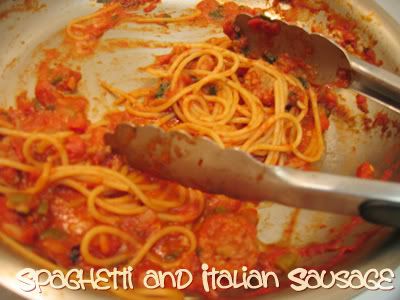 This post is really just an excuse to teach you how to make tomato sauce. Though Italian sausage is certainly a yummy way to augment your tomato sauce. I confess that I do not often make my tomato sauce. I don't know why. You can make it in giant batches for way cheaper, especially if you use herbs from your garden. Unfortunately, a batch large enough to use an entire package of fresh herbs would be ridiculous. Alternatively, you could also use dried herbs, but it won't taste as good. Seriously, plant an herb garden. Basil, oregano, and thyme are great and quite versatile. I could eat basil straight off the plant. Seriously.
Okay, so I don't actually have an herb garden right now. We're moving from an apartment to a house in less than a month, and it would be a serious pain to move it. I want one so bad. :( I got the herbs from my very first CSA box. The basil was so beautiful I could cry.
So, how do you make tomato sauce?
You can make a basic tomato sauce with just olive oil, garlic, onion, and tomatoes. You saute the garlic and onion in the olive oil. (Most recipes require you to sweat the garlic and onions, meaning you cook them slowly until they turn transparent without letting them brown. I like sauting better. Letting the onion get a little bit of color makes it more flavorful.) Then, you add the tomatoes and simmer. You can augment it by adding bell pepper (with the garlic and onions), oregano, thyme, basil, and/or parsley (at the end), and/or crushed red pepper (whenever, pretty much). I put all of these in my tomato sauce, and I am glad to say that my husband said it was his favorite. I use a mixture of diced and crushed tomatoes because I like the consistency of the sauce at the end, but you can use any that you want. Or even fresh ones.
Tomato Sauce
Ingredients:
2 T olive oil
2 cloves garlic, minced
1/2 medium onion, diced
1/2 green bell pepper, diced
1 15 oz can diced tomatoes
1 28 oz can crushed tomatoes
enough fresh basil, thyme, oregano, and parsley for a handful (about 1/4-1/3 c)
1 t red pepper flakes
Method:
1. Saute the garlic, onion, and bell pepper in the olive oil over medium-low to medium heat until the onions are transparent.
2. Add the tomatoes and simmer over medium-low heat for 20-30 minutes.
3. Just before serving or storing, add the herbs and red pepper flakes. You just want the herbs to wilt before serving, no more, especially if you're storing it to serve later. I freeze tomato sauce in a muffin tin and then transfer the sauce to a ziptop bag.
To make the spaghetti and italian sausage, cut up one link of sweet italian sausage into bite sized pieces (or use bulk sausage). Brown the sausage over medium-high heat (use a little oil or non-stick spray) until cooked. It shouldn't take long, maybe three minutes. Add 1 1/2 c of sauce, and heat through. Meanwhile, boil 1/2 lb of spaghetti in salted water. When the pasta is done, drain and toss with the sauce.