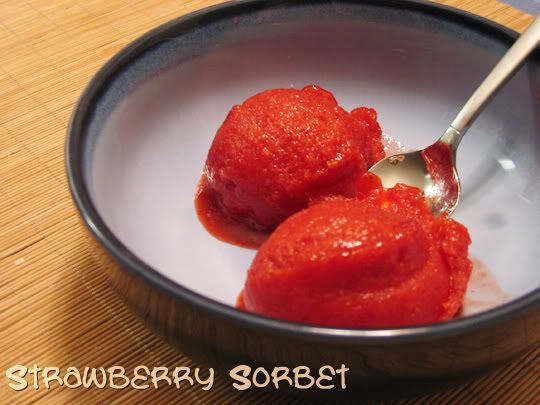 See over there? That's my first foray into the world of food photography. Not bad for a first attempt if I do say so myself. (Though I have to admit to a little post-camera tweaking.) That lovely looking strawberry sorbet you see above is what I made tonight. It's so so yummy. And it's really not that hard . . . assuming you have an ice cream maker. It would be rather difficult if you didn't. I have
this one
, and I very much enjoy it. To get it ready for the sorbet, the core has to go into the freezer the day before.
In the interest of full disclosure, I have to tell you that I used some leftover strawberries that were in my freezer as well as some in my fridge. So the amount on the strawberries is purely an estimate. However, I think it's pretty close thanks to the gauge on the side of my blender.
You'll notice the presence of alcohol in the sorbet. Don't worry. You can't taste it. It's just there to lower the melting point of the sorbet and therefore help keep it from freezing into a strawberry-flavored block of ice. If you wanted to be able to taste the alcohol you add, I would recommend orange liqueur or brandy. If you use those, I would up the alcohol content a tad and lower the sugar content to keep it from becoming too sweet and preserve the texture. Other ways to tweak? Lemon juice and/or zest or balsamic vinegar.
Strawberry Sorbet
Ingredients:
1.5 pints strawberries
2/3 c sugar
2 Tbsp vodka
Method:
1) Cut the leaves off the tops of the strawberries and slice in half.
2) Put all ingredients in a blender and puree until smooth. If you wish to, you can strain it. (I didn't.)
3) Start up your ice cream maker and pour the base from the blender into the ice cream maker.
4) Freeze according to the manufacturer's directions. I let mine run for 15 minutes.
5) Put into a container and leave in the freezer for at least 3 hours before serving. Or eat it straight out of the ice cream maker if you just can't wait.